SkySaver for Fast Emergency Evacuation from High Rise Buildings
High-rise buildings can be notoriously challenging to evacuate in emergency situations. Evacuating large amounts of people safely via multi-storey stairways is difficult and time consuming. In some cases, when emergency escape routes have been blocked, escape is only possible with the help of emergency service teams. Sadly, it's not always possible for teams to reach everyone trapped inside.
The SkySaver design team wanted to create a better solution for high-rise evacuation and they did just that with their innovative portable evacuation kits. Whether you're ensuring the safety of those in a residential or commercial high rise, SkySaver gives occupants a fighting chance of safe evacuation in an emergency.
SkySaver: FAQs
How Does SkySaver Work?
SkySaver is a Controlled Descend Device (CDD) which is attached to a backpack and harness. The CDD is a friction-based mechanism commonly used in tactical and extreme sports appliances. The SkySaver CDD is designed for everyday people, yet is highly resilient to a variety of extreme conditions.
How Do You Use a SkySaver?
SkySaver is easy to use and requires no training. Simply follow the 3-step process:
Buckle up
Clip onto the anchor point
Exit through window or balcony
Once the user is outside the building, the SkySaver will automatically descend towards the ground floor.
How Many People Can Use a SkySaver?
Each SkySaver backpack is designed to carry one adult. Adults may carry a baby, a child or pet with an attachable front harness, designed specifically for this purpose. The SkySaver Family Backpack connects to the harness through the front side buckles.
How Fast Does SkySaver Descent?
SkySaver descends at a steady speed of 1 to 1.6 meters per second, depending on the user's weight. For instance, if the user is carrying a child, their speed will be a bit faster than their speed descending alone. The average user experiences the speed range as a comfortable and smooth descent.
What is the Min/Max Weight SkySaver Can Carry?
In Europe, SkySaver is certified to carry a minimum load of 30 kg and a maximum load up to 120 Kg. Children weighing less than 35 kg must use the attachable child harness, connecting to the front side of the SkySaver Family Backpack, which allows each adult to carry a child with him.
How Many Times Can a SkySaver Be Used?
You can use a SkySaver several times, but it must be rewound at the SkySaver test centre lab and be recertified by SkySaver.
Will We Need to Install Anchor Points?
You can use the SkySaver with a mobile or a fixed anchor. Each SkySaver box contains two fixed anchors ready for installation at your premises. Anchor installation must be carried out by a certified professional.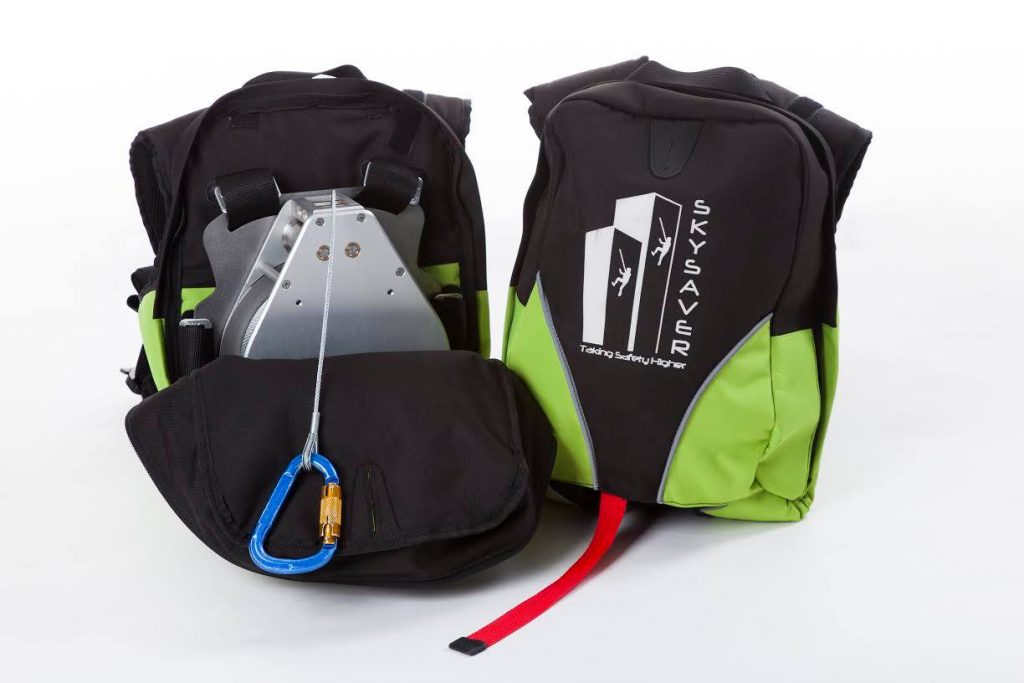 Installing SkySaver at Your High Rise
Ready to install SkySaver at your site? Tool@rrest has EXCLUSIVE distribution rights for SkySaver solutions in the UK. We're on hand to answer any questions: talk to our friendly team on 01952 292 782 or contact us online.
Tool@rrest – The Drop Stops Here.