Types of Tethered Toolkits
Need a fully secure, tested and assured system to help eliminate dropped tools when working at height? Choose one of our carefully constructed tool kits, complete with certified Tool@rrest tethers and lanyards.
Tool@rrest toolkits are available in both mobile and static tool chest formats and are comprised of premium quality tools for precision work and durability. Each tool comes with a traceable, patented tool tether. Hammer and electrical extension drawers are also available for all tool chests, as are customisable drawers and tools to meet specific requirements.
Mobile Kits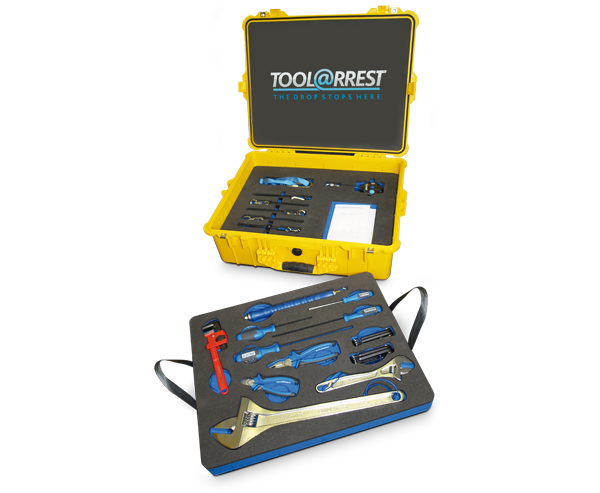 Suitable for service companies working off site, such as on/offshore drilling rigs. Easily transportable, providing immediate access to tools, while keeping them fully protected. Tools in mobile kits are secured in removable foam lining, which is housed in a tough, durable and waterproof, Peli case.
Standard kits include:
Crane Maintenance Kit: 33 tools
Marine Tethered Kit: 54 tools
Offshore Training Kit: 30 tools
Tethered Land Rig Kit: 73 tools
Tool Chests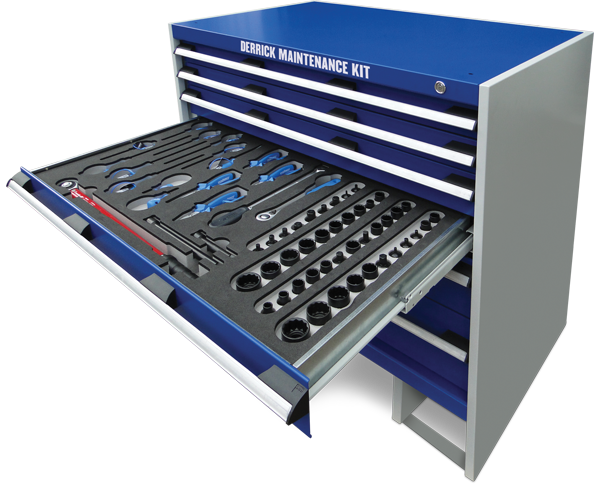 Developed specifically for larger departments or fixed installations where greater tool choice trumps mobility. Secured in foam lined 6-drawer tool chest with forklift base for easy handling.
Standard kits include:
Derrick Maintenance Kit: 158 tools
Drillers Kit: 126 tools
Large Crane Kit: 99 tools
Mechanical Kit: 147 tools
Sub Sea Kit: 135 tools
Electrical Kit: 165 tools
Bespoke Kits
Need a specialised kit? Tool@rrest are able to provide fully customised tool kit contents and layouts to meet almost any application or need.
About Us
Tool@rrest is a leading manufacturer of engineered, certificated solutions to prevent dropped tools in the global work at height sector. Our systems centre around the creation of a patented tool tether:
Independently tested, statistically fail-safe and fully certified.
Uniquely capable of being retrofit to nearly all new and existing hand tool stocks.
For hand and power tools up to 2.5kg in weight.
If you'd like to discuss your tool tethering requirements or place an order for a tool kit, please get in touch with the Tool@rrest team or call: +44 (0) 1952 292 782.
Tool@rrest – The Drop Stops Here.