Why Serial Numbers are Vital for Tool Tether Traceability
Not all tool tethers are created equal. Here at Tool@rrest, every single one of our tethers is supplied with a tether tag. This tag contains a unique, individually traceable serial number.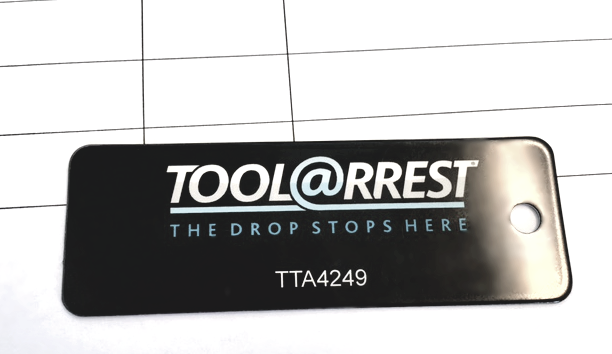 Using serial number across the board in our product ranges is vital for two key reasons:
1: Product Reliability
Each unique tether ID allows you to trace products back to their manufacture and associated test results. This gives users peace of mind that tethers are statistically fail-safe and will keep teams protected at all times.
Our tool tethering solutions are independently tested 5,200 times each, using what's called a Weibull statistical model, to provide a fail-safe rating for hand tools up to 2.5kg. Every batch of tethers applied is also tested by Tool@rrest to ensure they match the Tool@rrest certification standards. Our standards exceed all current industry standards, so you can rest assured your solution is safe and compliant.
If you're using our Retr@fit service, which allows you to have fully-certified tool tethers retrofitted to your existing tool stock, the product serial numbers will make available the time, date and location of application, as well as detail the certified Retr@fit Agent who fitted them.
2: Inspections and Tool Tether Management
Serial numbering also allows for internal traceability. Using a QR code system, our customers can scan the unique ID number and utilise it as a complete tether management system, so tether inspections can be carried out and replacements made as needed.
If required, the QR code system also allows for tools to be assigned to individual employees and checked in and out at the end of the day. This traceability ensures that any missing tools are flagged immediately, and that accountability is given to those making routine checks on equipment condition.
If you're investing in tool tethering, a non-serial numbered solution will not fully protect your team and projects. Talk to the Tool@rrest team today about how we can help you find a safe, reliable and fully traceable system.
Contact the team online or call: +44 (0) 1952 292 782
Tool@rrest – The Drop Stops Here.